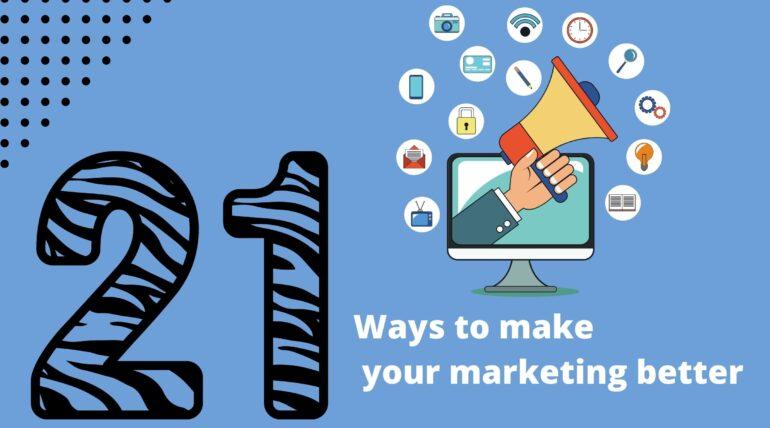 The past few years have been totally rollercoaster for all of us full of emotions and fear. Also, it shifted us to a totally new normal "ONLINE" without warning. All the physical business came to a halt and soon we were attending office meetings from the comforts of our beds day in and day out.
Fortunately, the presence of the internet was a huge blessing for all with a huge number of businesses moving digital and people gradually realizing that in order to become a huge entrepreneur you don't need to invest in big building or stores all you need is a strong internet connection and a stronger business plan.
With such a huge number of businesses moving online digital marketing has become a very important need for all of them to become digitally visible so that customers can visit their sites and place orders for them. This improves customer relationships along with reaching the target audience in an optimal way. Now let's see 21 ways to improve your digital marketing strategy and take advantage of this blessing to boost sales, build customer loyalty and take your business to next level.
Spending more on social media: With the entire world moving online usage of social media has been enhanced at a rapid rate. Spending money on SEO and SMO with engagement in social media posts is the best way to acquire customers.
Google listing: People prefer to buy from local shops in such a case scenario it is best to ensure your Google listing and SEO are on the same point. Otherwise, there's a lot of chance that you lose your potential customer
Voice assistant: With situations arising we have become best at multitasking so we can't ignore voice commands or voice assistants that shot up and we should consider those who use them.
Interactive content: If you keep on delivering content to your users, they might get bored with it sooner or later so it is very crucial for you to engage with them and do some conversations so that they get encouraged to take your brand.
AI learning: The best thing that saves your time, effort, and money. Wonderful for strategies.
Personalization: It's important to talk with customers instead of speaking to them. Recommending them as per browsing habits is the best way to attract them having their name on top of the website when they log in is a simple thing to personalize.
Automating: No one like late replies so it's better that you make sure that you generate an automated system that gives instant replies to your user via mail or other means.
Adoption of the new platform: Earlier it was Tik-Tok now its reel, and changes keep on taking place. Make sure to explore that you explore every platform on which you can find your audience. For some time, it might be hit and trial but soon it becomes a nasty way to get your targets reached.
Regularity: No one likes outdated design or non-optimizing design as they can be detected too easily. It's suggested to use genuine images, muted color pallet, and the best appealing fonts.
Visuals: A fantastic way to reach the target audience is that you make your visuals interactive. If your user finds them cool and amazing, they might share them with their friends and around which might reach your target audience.
AR and VR: in this digital age why shouldn't we use some extra stuff like AR and VR to grab the audience's attention by giving them a good experience.
Influencers: great names in all the fields do have great fan followings but small influencers, in reality, have a great active audience that trusts them and always considers their recommendations so it's great if you approach them.
Being inclusive: In this century if you are not inclusive in terms of graphics and content then surely you are behind your competitors. This not only helps you to create a good brand name but also helps you to get engaging users with your brand.
Position zero: Make sure you have position zero on google. Sometimes these features are useful from the perspective of reading out loud by a voice assistant.
Customer segmentation: From doing one or two large campaigns in a year, it's better to do five to six small campaigns in a year. This helps you to reach a wide range of audiences in various fields rather than focusing on a couple of fields and getting a limited audience.
Create shoppable post: You can use this new feature by FB and Insta where customers can instantly shop from your posts with product tags.
Short videos: The success of TikTok and Instagram reels is proof that short videos are dominating social media and the best way to deliver your message in a short and direct way so there's no chance you can ignore it in your business.
Google ads: Google can adjust your bids and help to get maximum results from your ads based on the goals of your campaign.
Tracking: Watching regular reports of your social media content and tracking reach in a regular time interval is a good way to see your performance and better your content. Always look out for that point where you can improve.
Tracking customers: focusing on leads is important but it is equally important to track your customer where they leave. How can you prompt them to continue on your site and make a purchase from you?
Building influence: You can create your own influence in minds of your customer with help of social media. This will create trust and credibility in minds of customers, but it also takes you to conversations where your branding is done.
Going digital is truly a tough task for us which comes with a lot of risk and uncertainties but it's time to encourage ourselves and fuel up to derive the best resources from the internet.
So join us at techbinge to get your brand value boosted with all required digital marketing services.