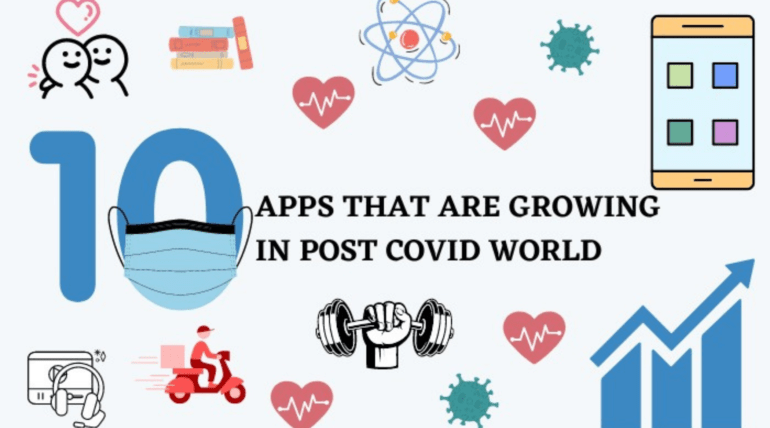 Now for over three years, we've been fighting against COVID and we don't know for how long its impact is here. Some business models that are flexible and keep on bringing changes are becoming stronger and growing. Many businesses are adapting to this new normal.
Many sectors like IT, Work from home solutions, gaming, video streaming, and e-commerce are becoming instant saviors whereas sectors like tour and travel, retailers, and hospitality need some time to become stable.  In this situation having a mobile app for your business is a much-needed thing.
Taking your business online not only opens multiple branches for your business to make profits and get popular moreover it ensures our safety by maintaining social distance during this outbreak. So, speaking the truth there's no way we can manage our lives without these online services.
10 App categories that will reach on top in post covid world
Health care app: In this sensitive time when everyone's major concern is health, this will surely be the leading category. Since there's no physical moment and social interactions during quarantine and lockdown apps that are related to physical fitness, mental health, medical care, and meditation are helping people a lot to fight against problems like anxiety, stress, depression, and diabetes, obesity, etc. These apps guide you about the exercise you can do at home or diet that you should take or yoga to keep your internal self-healthy. Along with this, there are some apps that connect you directly to doctors and specialists so that you can discuss your disease and symptoms to get a proper cure.
Grocery app: People are not willing to step out of their homes but on the other hand they need groceries at home which is important for survival. So, grocery apps are much important part of this list. People don't want to be infected and going to shops is a highly risky task. At this point, grocery apps come into role, they play the role of feeding people in a much safer and quick way. There was a time when someone rarely needed a grocery app but now this is a highly in-demand app category during crises.
Financial apps: In this time of uncertainty with major economic downfalls and limitations to visiting banks, it is hard for people to manage savings and handle money. From basic things like money transfer, bill paying, and using a bank account to major things like stock monitoring, investing, and trading all financial activities are possible from the ease of home. Many studies show that majority of people use banking apps on daily basis.
Dating apps: There is a massive hike in the usage of dating apps in post COVID world. Dating apps like Bumble, Hinge, and Tinder have seen a hike as people were willing to connect and interact with new individuals online of their type when all the face-to-face activities were prohibited. Meeting a new person in real can be a bit costly and time-consuming hence using an app will be more beneficial and work out for relationships.
Streaming apps: Sitting at home all day long in your bedroom was really boring so in order to reduce your boredom entertainment apps were really helpful. Apps like Netflix, Amazon Prime, Spotify, YouTube Music, and Google play music encountered a great demand and now they are all-time favorite apps irrespective of age. Adults not only get themselves engaged on streaming platforms but also indulge in informative apps like BBC, CNN, and another news app to see recent happening that is going on in the world. They can see various ways to deal with scenarios, and what government and health organizations are telling people to do.
E-Learning apps: As all the teaching methods and learning methods moved online, there was a ratio of the population that moved towards online learning just for fun and learning new skills. People get individual attention with proper time-space to learn and adapt things.  As of now, education institutions are open but still, eLearning organizations will continue to gain more attention due to the cost-effectiveness and ease that people get during teaching and learning.
Social media apps: Physical distance doesn't mean that we were socially away. Apps like Instagram, WhatsApp, Facebook, and Twitter made it possible for us to remain connected with the world via messaging, video callings, and photo sharing. We were aware of all the recent activities of friends and relatives. All the celebrities, influencers, sports personalities, and entrepreneurs were sharing their views and stories, educating, inspiring, entertaining, and motivating people. However, surely this change is not for a limited time and these social media platforms will keep on growing with time.
Food Delivery App: With all cafés and restaurants shut down and dining or takeaway services closed, there was no way to get a taste of your favorite food at home until the food delivery app comes into the picture. Swiggy, Zomato, UberEATS, and many more businesses removed all the delivery charges and helps small and big food brands to keep on services in lockdown. You can now order any food product at the ease of your home at a reasonable cost. Now we are so used to these apps that we use these apps almost twice a week.
DIY apps: Many people spend their time at home renovating and making more attractive décor products at home out of waste. For that people used many such apps that tell them how they can turn the best out of waste with ease and available things. Mobile applications that help you to improve your space looks better with ease and cost-saving are best is successful for the customer who spends more time at home happily enjoying decorating home.
Education and learning: Though there's nothing that can be compared to the level of learning in classrooms time forced us to go virtual. Almost every student went to online mode in their studies and haven't seen classrooms for over years with the digitalization of education. Google classroom, Byju's, Unacademy, etc. gained a lot of popularity as students get extra knowledge and high learning apart from school courses here. These apps make it easy for teachers to create videos from which students can learn easily hence these apps will go a long way.
From learning to interacting and health care users spend more time on mobile apps that help in maintaining social distance and making life easier. So, we can conclude by saying that it's the perfect time for new apps and concepts to grow and come into reality.